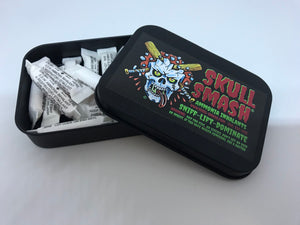 Skull Smash - Tin of single-use ammonia caps
Regular price $13.50 Sale
Skull Smash specializes in making the best bottled ammonia in the world. But there are athletes who still like or need to use single use ammonia capsules, so Skull Smash provides an option for them as well. Most boxes of caps come with 10 caps in a flimsy cardboard box. This makes breaking them before you want to very likely, especially when traveling. At Skull Smash, we don't put 10 to a box...we put 15 caps in one of our heavy duty, reusable black metal tins, neatly marked with the Skull Smash label. Keep you caps safe from breakage with our tins. Enjoy!
*** WARNING ***
Skull Smash Ammonia products are made to be inhaled by strength enthusiasts in conjunction with their training and competitions. Our products are NOT intended for medical use, or to treat any illness or condition. You use these completely at your own risk, and by your own decision and judgment that these are suitable for your personal use. As with most compounds and aids of this sort, there are potential risks and hazards. You should seek the advice of a medical professional before using these, or any of our products, especially if you have concerns.

Ammonia gas is toxic in large concentrations, and for long periods of time can be very hazardous . Since smelling salts produce only a small amount of ammonia gas, and with normal, responsible use, and if the individual isn't exposed for long periods of time, serious complications or hazards are rare, and we are unaware of anyone experiencing any ill health affects from normal use. However, a high concentration of inhaled ammonia might burn the nasal passages or lungs. Please use responsibly, and seek medical advice if you have any concerns.